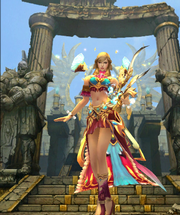 Specializing in the lyre as a weapon, the Enchantress can both weave songs of courage and destruction. Her main role is to keep allies buffed and monsters debuffed. While she does not output a great deal of damage she does however buff her allies offensive and defensive capabilities making her a sought after party member.
Ad blocker interference detected!
Wikia is a free-to-use site that makes money from advertising. We have a modified experience for viewers using ad blockers

Wikia is not accessible if you've made further modifications. Remove the custom ad blocker rule(s) and the page will load as expected.