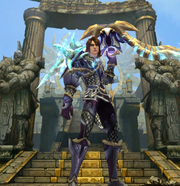 With guile and precision, the Ranger is extremely proficient at dealing massive amounts of damage from long range. With AOE traps and skills to aid them in combat, the ranger plays a vital role as the tactician and strategist. With their ability, a team's overall combat effectiveness will increase dramatically.
Ad blocker interference detected!
Wikia is a free-to-use site that makes money from advertising. We have a modified experience for viewers using ad blockers

Wikia is not accessible if you've made further modifications. Remove the custom ad blocker rule(s) and the page will load as expected.